Do you want to live in a new world? Are you ready to work towards a new earth full of love, freedom, nature, abundance, harmony, co-creation, connection and joy? Do you want to use your wonderful talents to achieve this? Do you think everyone deserves to use their talents to fulfill their life mission and make the earth a beautiful place? Then we are looking for you!
We are a group of people with different talents and visions with a common goal: to create a beautiful new earth where everyone can be themselves and live in harmony with the earth and each other. Love, Freedom, Nature, Creation, Connection, Harmony, Abundance and Joy are key words in which we find each other.
The wish of many people is to live in nature and create a beautiful self-sufficient place. It is what we feel people need to live healthy, happy and from their heart. Some dream of living in a close-knit community, others want to live in a self-sufficient way. We dream of traveling freely between communities or have like-minded dreams. Together we build villages, big or small, where we can feel at home. We create communities in different countries. We connect with all the initiatives out there to show what possibilities are already there. And we would love it if you would join us to help, share, support and connect each other to create a new earth. Join our amazing community of free people so we can help you live your dream too.
Love, Freedom, Nature,
Creation, Connection,
Harmony,
Respect,

Abundance,

 Joy 
Free Spirits Community online
We are growing and we can use everyone's skills. Every minute, hour or amount of help we can use. Your talent can be anything. From a born talent to a learned talent, anything is welcome. Even if you think your talent is small and normal, it is probably very useful to build a great society together. You can also help us if you want to develop your talent. There are many people helping who have already mastered their talent and maybe you can work with them. You can also discover your talent or do what you always wanted to try but never got the chance to try.
Doing what you love, that's what we want to offer you.
If you do things with joy and happiness, beautiful things will blossom.
The opportunities for this network are enormous. However, we can only fulfill these opportunities if people like you join us. See below the benefits of this platform.
Become a member of our community
Access to our online platform
In our online platform you have access to a lot of information about setting up a community. We work together and share information on the different topics. The platform is there to meet and connect with each other. It is a way to already come together in a new earth with like-minded people.
Connect met likeminded people
You meet new and like-minded people through the online platform. They all live by the values of Free Spirits Community. You can attend on- and offline meetings. You can even join the space dating & relationships if you are looking for someone special.
Discover your talents
We all have something unique to offer. We believe that exchanging talents is important. Your help, energy and skills are very useful in creating a new earth. You can join the topic of your interest and of course learn a lot about community life.
Working together
There is a lot of work to do in a community. First of all, we ask you what you want to contribute to. In the different spaces we work together, share documents, fulfill tasks. Together we create new earthly communities for free spirits.
Share your products and services in our marketplace
We believe in a community of abundance. This means that we all work for the good of all. If we all give, everyone has enough. In our marketplace, we can share our talents, knowledge, services and products. Sometimes paid, sometimes not. It's all possible.
How does our platform work?
The platform is similar to Facebook. You have your own profile and you can subscribe to various pages, which we call "spaces. In those spaces we can collaborate, video call, schedule meetings and create wikis. Connect with members, engage with each other and share your knowledge, talents, wisdom and abilities. There are several spaces you can sign up for. Below we explain how to register.
Our platform is a place where we work together to build a new earth. A place to connect, share and just be ourselves. A place where we also connect with other initiatives and a place where we have our own marketplace. We hope you'll want to be a part of this, so we'll explain a bit about the process of registering.
Read our General Terms and Conditions
Read our Code of Honour
By registering you automatically accept our Terms and Conditions and our Code of Honour
Click on the green button below to start the registration (new screen opens).
Fill in your mail address at the bottom. It is helpful if it is the same as the one you used to donate. Donations are welcome, but not required (see bottom of this page).
You will receive an email to register. Check your spam!
Fill out the form with your first name, last name, email address, location and group.
Our team will approve your registration (this may take a while, sometimes a day).
You will receive a confirmation email when your registration is approved.
Log into the online community
Once you are in the community, you will be given a brief tour of the platform itself. Read the text and answer the questions in the 'A Warm Welcome Space'.
We will help you get used to the platform.
The platform is set up in English, but it can be translated in different languages.
We hope you enjoy this loving and warm community where you can be a free spirit.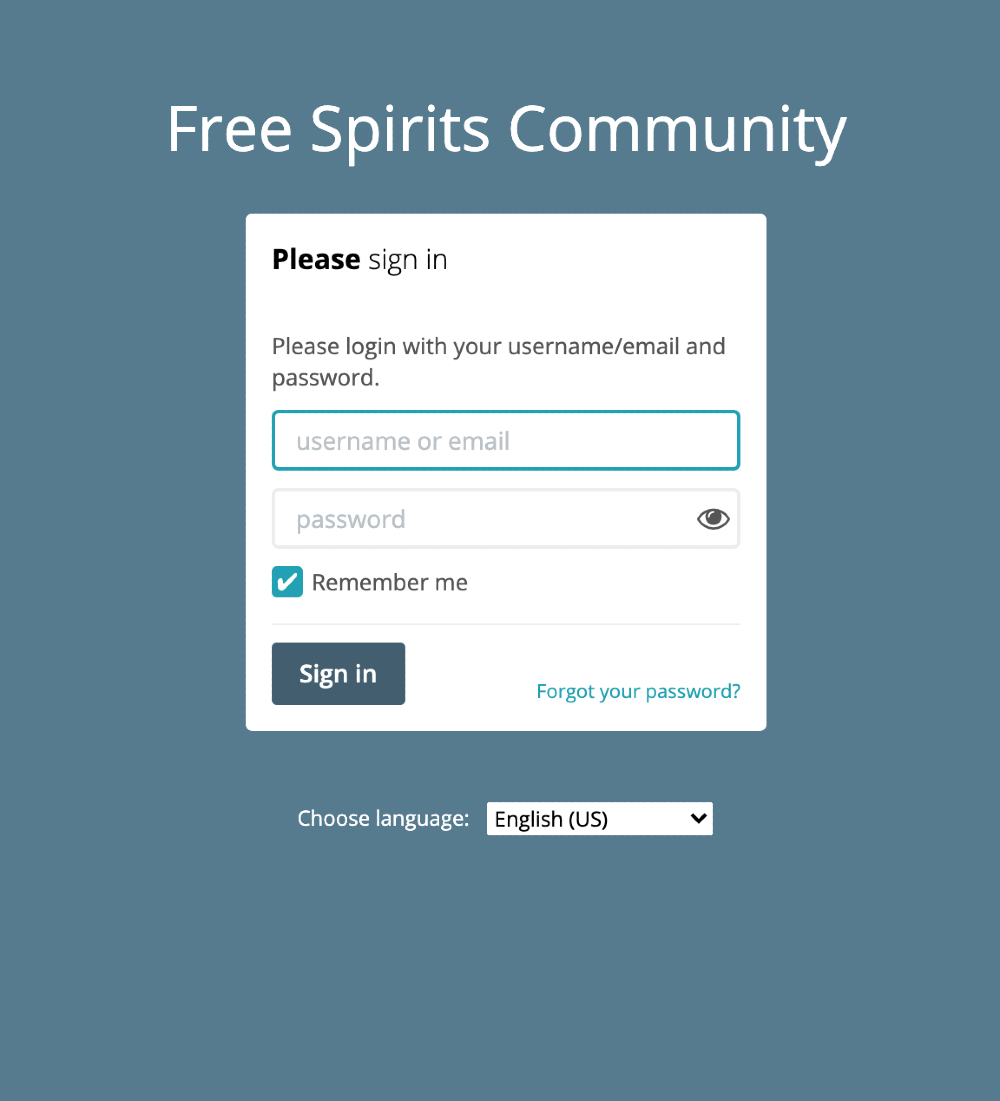 Self-sufficiency
Child development
Adult development
Natural laws & sovereignty
Spirituality
Healthcare
Technology
Energy
Water
Marketplace
Finance & Crypto
Social & Events
3. Connect, collaborate, plan events, video-call and create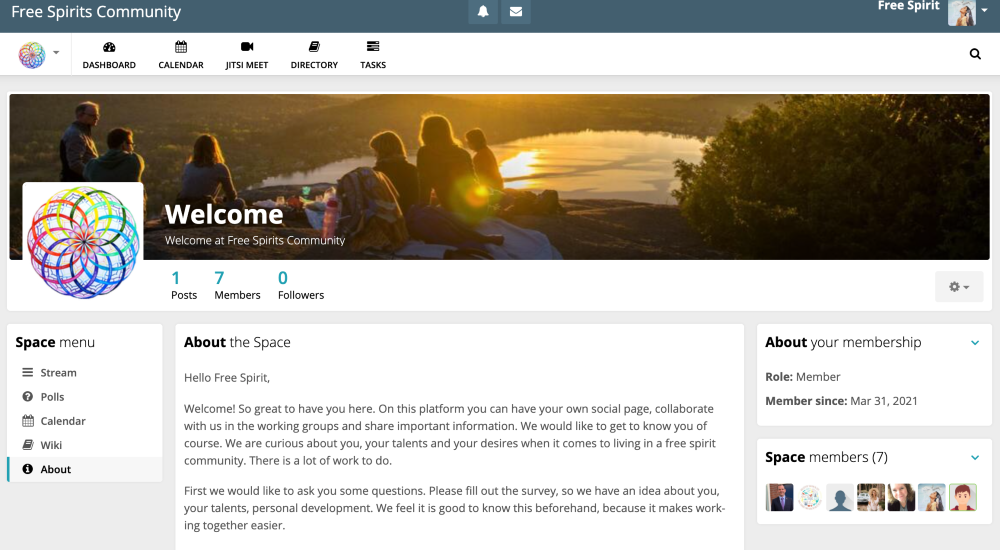 We imagine a world filled with beautiful trees and with plenty of water. The sun illuminates our hearts and birds sing. You see the most beautiful colors in nature and people work, create, laugh, eat and celebrate together. We are happy because we use our talents and skills to make something great out of the place we live. We are creating a new (heaven on) earth.
What are the donations used for?
Your donation is a great contribution to our community. It is used for our low expenses and to achieve our goals. Below is a timeline of goals and the money we need to reach each goal. As we progress and if we have enough funds to reach our goal, our community can grow and prosper.
Would you like to contribute to our projects?
We are very grateful for you donation.