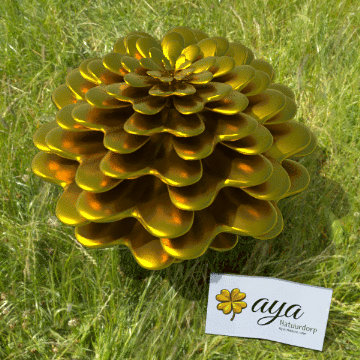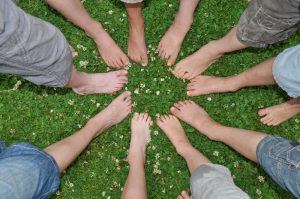 Ecovillage & Nature Center AyA creates a world where we build, work, live and breathe in harmony with nature, in solidarity with each other and to inspire the world around us. We live in harmony with each other and take responsibility for the earth together, so that the world remains a beautiful place to live for generations to come. Our goal is to tune into our inner, innate and infinite abundance, which is part of the One and All.
We are already a community, currently based in Tilburg, South Holland, and intend to build our own Ecovillage with self-sustainable ecological homes and gardens, in Holland or the north of Belgium. We are currently in the process of manifesting a beautiful piece of land, in Poppel, across the border in Belgium, and we are actively looking for investment and support.
The Aya Vision: Aya is an Eco-village and Nature Center. It is a place where you come back to your innate nature. The main building Gaïa and the houses are built in a sustainable, artistically bionic way. We build earthships, tiny houses, yurts, and cobb houses. It looks like and blends in with nature, inside and out. We are surrounded by a food forest, natural swimming lake, play forest and permaculture gardens.
Our strength is in our innate connection with nature, and our commitment to Biodiversity in the nature and health of the earth and soil.
We invest in cooperation and the inter-link between man and nature.
We live, work and play together in nature. We produce a lot of our own food and have a shop with sustainable and organic products. We produce our own electricity using different methods. Water is purified and reused. This and the food forest bring balance to the water management, which ensures a better groundwater level and less demand for energy-hungry methods. There will be better CO2 storage and less soil erosion. Our building methods involve research and deep understanding of healthy energy management.
Producing our own food is taken care of by means of interns, workshops, events, and exchanges. The advantages of this are: Healthy food, working together in a healthy environment, less transport costs, better biodiversity, more insects such as bees, more birds, and a multi-diversity of soil life.
Aya is ideal for expanding alternative housing concepts and it fits in perfectly with the widening group of people who are ecologically minded, and have self-sufficient housing desires.
The village contains permanent residents who live in their own homes. We also welcome visitors to the land, we hold workshops and have a camping area where volunteers are welcome.
We already have a strong integral structure of our community; with inner circles and domains, and are focused on Harmony, Manifestation, finding our ground, the creation of garden spaces (Floraya) and Design- the design of the land, branding and more… All within the Aya community are a part of this structure and are innately involved with its flourishing.
We are engaged with the local Gemeente and the municipality, as well as large corporations, to make our dream come true. This is largely successful as everyone now sees the promise of a new future and living in communities; in harmony with the land. This is the only way forward for the future.
You are welcome to follow us through our live Telegram group, which is updated regularly, if you would like to be closely involved with Aya. We hold weekly meetings on a beautiful piece of forest land in Riel, with fire ceremonies.
New visitors are welcome once per month to see what is happening.
Look at our website for further information: www.aya-nature.one
On our website you can see how we are progressing, visit our natural shop, and connect with our Facebook page. We are starting our crowdfunding campaign for investment, and donations are possible.
We are now in the phase of actively recruiting new members, and welcoming you to share our vision and mission. We already have a place to play and meet friends, around the fire and to sing and dance. You are always welcome to visit us.
Share our vision with your friends and family!
Sign up via www.aya-nature.one or aya@aya-nature.one
Infinite Love
All Ayaans